NTT DOCOMO PRIME series N-03C
Features
One of the latest handsets in the NTT DOCOMO PRIME Series, the N-03C is a tough, shock-resistant dust and waterproof phone wrapped in a stylish design, with a premium version designed in collaboration with the popular snowboard maker Burton.
NTT DOCOMO PRIME series P-03C
Features
The P-03C is one of latest handsets in the NTT DOCOMO PRIME Series, and is a LUMIX Phone™ with highly user-friendly touchscreen control, enabling many tasks to operate. High-spec 13.2-megapixel camera shoots HD video.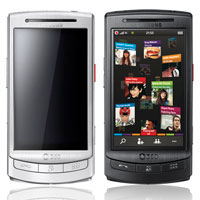 Vodafone 360 H1
Features
The Vodafone 360 H1 by Samsung provides end users with a state-of-the-art user experience to extend and enrich their service experience. One of the slimmest and lightest high-spec smart-phones currently available on the market, the Vodafone 360 H1 by Samsung boasts a 5 MP camera, a 3.5 inch WVGA display with advanced touch screen interface, WiFi and USB 2.0 connectivity, and GPS support.
Click for full specs
Vodafone 360 M1

Features

The touchscreen Vodafone 360 Samsung M1 delivers a great Vodafone 360 experience. The crisp, bright 16 million colour display showcases a unique 3D interface, integrated GPS, push email, audio and video playback, up to ten hours talk time, and much more.

Click for full specs

SCH-M510

Features

The Samsung SCH-M510 is a rich media device with support for various audio and video media types and features a 3.5" WVGA AMOLED screen and a 5 megapixel autofocus camera.This advanced handset features Wi-Fi and Bluetooth connectivity and also includes support for proximity, accelerometer and ambient light sensors.